Pennsylvania Military College


Class of 1968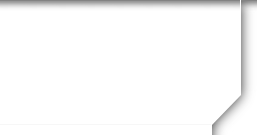 PMC Museum Reunion Exhibit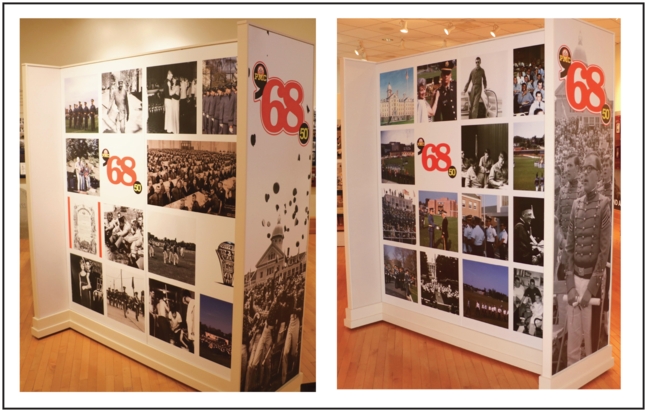 For the past few years, the PMC Museum and the Wolfgram Archives have worked with members of the 50th reunion class to select photos from their time at PMC. The result has been the Reunion Exhibit in the PMC Museum during Homecoming.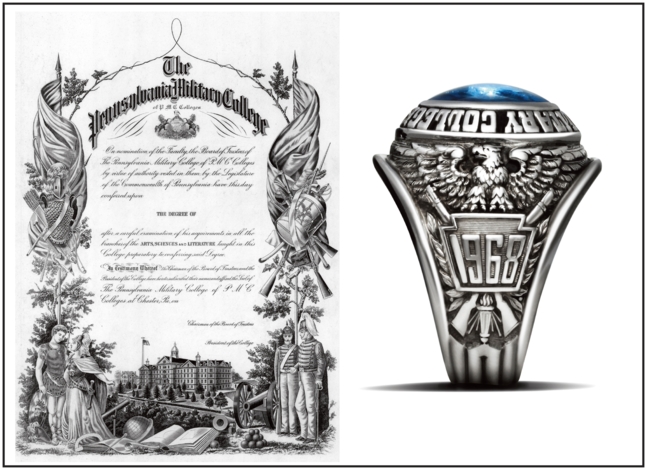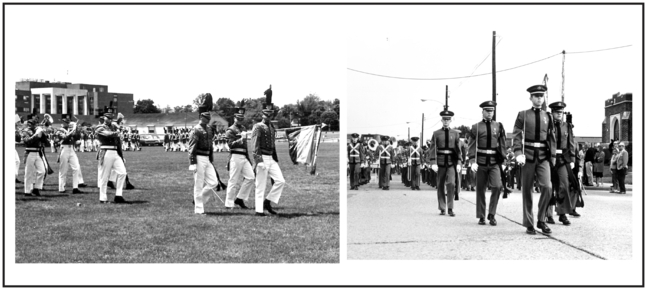 On the left, HQ leads our PMC Corps' "Pass in Review.". On the right, the Corps of Cadets lead by HQ marches in the annual Pulaski Day Parade through downtown Chester. HQ staff (left or right) John Derr, Fred Brown, Malcolm MacNab, HQ Commander and Jim Love Guidon Bearer.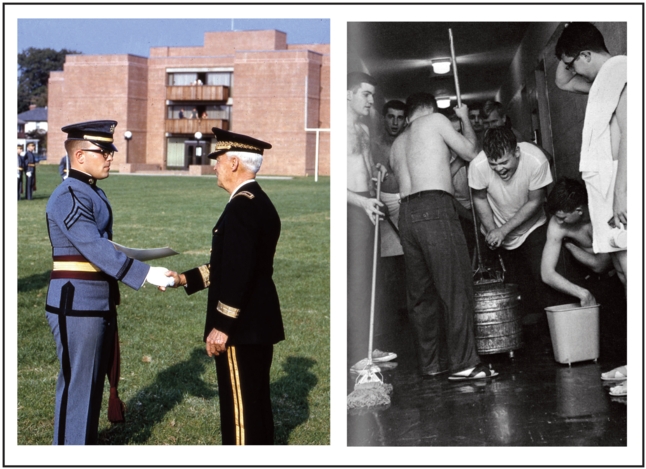 On the Left, Bill Bennis receives his Distinguished Military Student/Graduate award from MG E.E. MacMorland. On the right, HQ prepares Howell Hall, with Jim Love on the right advising, for the Saturday morning inspection.

On the left you have Joe Gross, Steve Raho, Richard Dixon, Jim Pearson and Charles Dievendorf in class. On the right Rooks are at rest. CLICK HERE TO IDENTIFY THEM..
On May 26, 1968 we received our diplomas with a sense of pride and accomplishment. At the end of the ceremony, we tossed our caps into the air in celebration. On the right, members of the Class of 1968 sing the Alma Mater.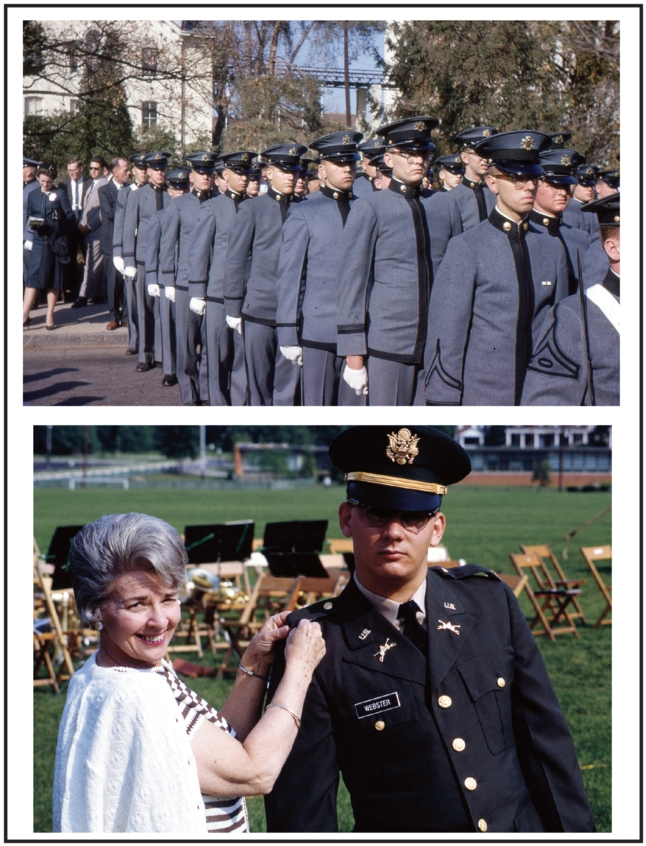 Top photo: "Rooks" preparing to march onto Memorial Field before a football game.
Bottom photo: Like so many others, Bob Webster '68 was commissioned prior to Commencement. Following the ceremony, his 2d Lieutenant Bars were pinned on his new uniform by his late mother.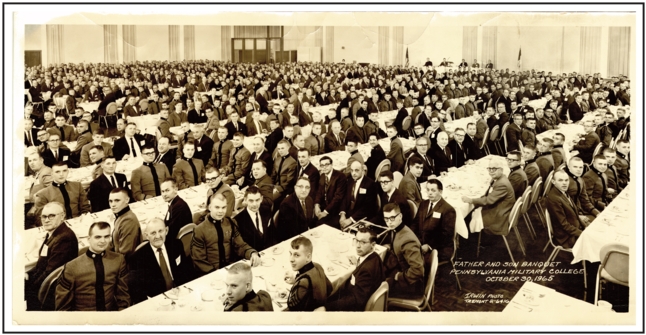 In 1951 PMC hosted the first Father and Son Banquet. Originally the event was held in the Hyatt Armory but later moved to the MacMorland Center Dining Hall. This photo is from the 1964-65 banquet.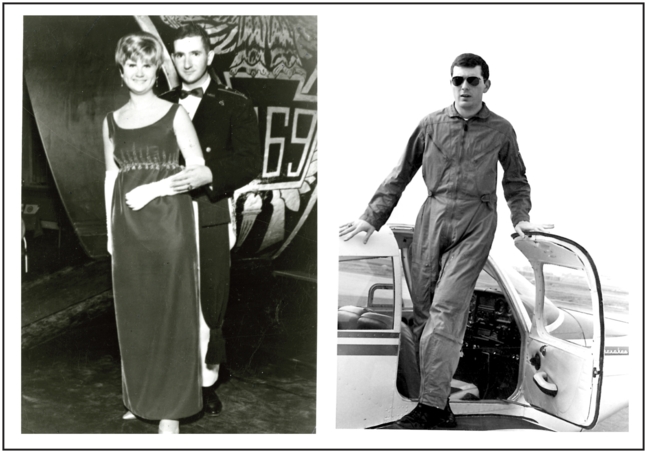 The Junior Ring Dance was considered to be a social highlight of our time at PMC. Pictured on the left is Carlo Cestra '68 and his future wife, Diane George, known to this day as "George." She was one of the original 12 nurses enrolled at PMC. On the right is Joe Gross '68 after one of his flying lessons. Today Joe is still in aviation and has started his own aviation company "Joe Gross, LLC."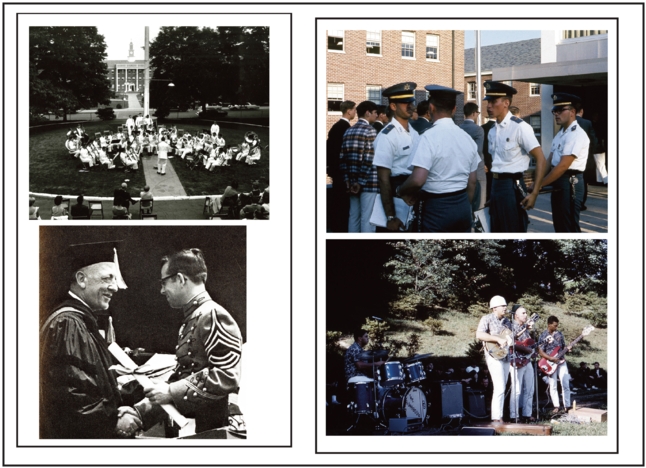 The top left photo is of the PMC Band playing an evening concert the evening before Commencement. Below this picture is Jim McConnell receiving his diploma from
Laurence P. Sharples.
On the top right, Richard Karagusian, Carlo Cestra, with his back to the camera, Ron Bruerton and Bill Bennis prepare to meet a new class of Rooks (freshmen) in the fall of 1967. The picture below is of Runabouts comprised of Pete Genovese on the drums, the late Ron Dankowitz rhythm guitar, John Fabian lead guitar and Errol Bond playing the bass. CLICK HERE to watch the Runabouts.